WELCOME!
It is with deep regret that we have to say goodbye to Yoshimitsu Yamada (山田嘉光) Sensei, who passed away on 15 January 2023 at the age of 85 in the company of his family. Yamada Sensei was Kohai of our former teacher Tamura Sensei (✝ 2010). He is known to some of you through his numerous courses in La Colle sur Loup (F) and Lesneven (F). He also held courses in Austria time and again.
With the death of Akira Tohei in 1999, Mitsunari Kanai in 2004 and Seiichi Sugano and Nobuyoshi Tamura in 2010, Yamada was one of the oldest living representatives of the last generation of direct students of O Sensei, Morihei Ueshiba.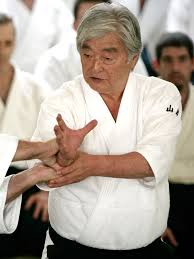 At some point, every Aikidoka will be asked the question "What is Aikido?" This is not an easy question to answer. It's the actual practicing of Aikido that brings an understanding of its meaning and leads to a benefit for the individual.
We offer courses in the Japanese martial art Aikido for beginners and those who are more advanced alike. If you would like to get to know us, you are very welcome to come along for a one off free trial.
Since February 2010, we have also been offering training for children. To find out more, just email office@aikido-wien.com, or phone us at 0664/73757491.
Our current trainings:
Aikido for Adults
On Wednesdays
19.00 – 21.00
Sportclub Hakoah
Segment 1
Wehlistraße 326
1020 Wien
Public Transportation:
U2 – Donaumarina
84A – Simon Wiesenthalg
On Fridays
18.00 – 20.00
Union Sportzentrum
Gymnastik – Kraftraum
Altgasse 6
1130 Wien
Public Transportation:
U4 – Hietzing
58 – Dommayergasse
Aikido for Children
On Thrusdays
17.45 – 18.45
Tonvoll Studio
Schelleing 50/3
1040 Wien
Public Transportation:
U1 – Hauptbahnhof
18 – Blechturmg.
13A – Rainergasse
On Fridays
17.00 – 18.00

Union Sportzentrum
Gymnastik – Kraftraum
Altgasse 6
1130 Wien
Public Transportation:
U4 – Hietzing
58 – Dommayergasse
Iaido for Adults
On Mondays
06.30 – 07.30
Tonvoll Studio
Schelleing 50/3
1040 Wien
Public Transportation:
U1 – Hauptbahnhof
18 – Blechturmg.
13A – Rainergasse
On Fridays
20.00 – 21.30
Union Sportzentrum
Gymnastik – Kraftraum
Altgasse 6
1130 Wien
Public Transportation:
U4 – Hietzing
58 – Dommayergasse